isa-pledge
International Soccer Academy Pledge To Players
International Soccer Academy pledges to follow guidelines provided by the CDC and WHO, and promises to take the following steps:
Monitor the health of our players, coach & staff, require the use of face coverings as necessary, promote regular hand washing and take temperature readings of players
Remind our players to avoid contact with anyone who is sick and avoid touching your eyes, nose, and mouth
Promote social distancing at all times
Limit the number of people, both inside our areas and on outdoor fields (if applicable)
Clean and disinfect high touch areas frequently including but not limited to any regularly touched surfaces, such as equipment, doorknobs, tables, chairs, and restrooms per CDC guidelines
Provide an area and or follow recommended protocols in the hotel for isolation and or quarantine, if it becomes necessary
isa-pledge
info-mallorca
Information on Mallorca, Spain
Get to Know Your Home Away From Home
General Information
Mallorca is one of Spain's Balearic Islands in the Mediterranean. The largest of the three Islands, Palma is the Capital with a 13th-century Santa María Cathedral named La Seu and boasts many popular beach resorts. A Spanish paradise with a perfect Mediterranean climate, English is spoken throughout. The Island attracts professional soccer teams and athletes from all over Europe to come for pre-season training. The emergency number in Spain (equivalent to 911 in the U.S.) is 112.
Outdoor Recreation
We know our players are in Mallorca for the intensive soccer training but we would be amiss if not to mention that the island is known for its amazing water sports (costs not included in session fee). Canyoning, Kayaking, Hiking, Snorkeling, Cliff jumping, Sea Caving, Rock Climbing, Parasailing, Diving, Paddle Boarding, Windsurfing is all available. Players, in their free time, can waterski, rent a Jet-ski or a boat … or just enjoy lounging by the pools for free. In the Spring Session, each player will have a bike rental at no additional cost.
View List of Outdoor Activities
Getting to Know The American Consulate
The American Consulate will welcome our players to Mallorca and give a talk explaining their services and what they can provide. Their contact number is (+34) 97 140 3707. For emergencies outside of normal business hours, please call (+34) 91 587 2200.
Hotel Accommodations
The hotel accommodations are 4 Stars. With an over abundance of caution, every player will have their own private room with bath. Every effort will be made to have the player rooms all together.
Note: There is no smoking on the streets of Mallorca, or in the hotel and on the balcony/terraces of the rooms.
Player's Chill-out Room
The hotel is providing our squad with a Players' chill-out room. This room will be available for the players to relax, hang out and have team meetings. Twice a month, the squad will be sharing the room with RCD Mallorca pro players
Meals
All meals will be provided at the hotel. This includes Breakfast, Lunch, Dinner, and healthy snacks. Players will enjoy a healthy, Anti-Inflammatory Diet.
Water
The tap water is not recommended to drink, it is not dangerous but has a high mineral content and is fine for brushing your teeth but we recommend purified or bottled water for drinking. Bottled waters will be available 24/7 in our on-site facilities room for the players.
Player Evaluations
Each player will receive a written evaluation.
Health Insurance
The session fee includes the cost of Spanish health insurance to provide quick and reliable access to immediate medical services for injuries, accidents, or illnesses. Note: This insurance does not replace American health insurance. Proof of insurance is required.
Uniform
Our players will be wearing the professional RCD Mallorca 2021 kits which includes game day home and away jerseys and shorts, practice gear and warm up suit.
Tickets To Professional Matches
Tickets for the team to attend professional matches are included.

Trip to Barcelona or Bundesliga Clubs for Friendlies
We are planning to take the team on a trip to visit Barcelona or Bundesliga Clubs to attend a pro match, play friendlies and/or meet with scouts (depending on coronavirus restrictions).
SAT Testing Center
According to the College Board, the American International School of Mallorca (Center Code: 59658) will administer the SAT Test on 12/5/2020, 3/13/2021, 5/8/2021 and 6/5/2021. This does not reflect the most up-to-date test center closures.
Visit Collegeboard.com for more information
info-mallorca
info-covid
Symptom Monitoring
It is important our players monitor themselves for the symptoms of the Coronavirus COVID-19.
Our coaching staff will also monitor the players and perform regular temperature checks.
Simple Prevention
As you already know, it is important to avoid touching your face and to always wash your hands for a minimum of 20 seconds before eating or touching your mouth or eyes.
Hand sanitizers which are a minimum of at least 60 percent alcohol are also effective and will be available on site at training and games as well as in the hotel.
No Sharing
Please remember not to share food, drink, water bottles, or anything else that can easily transmit the virus.
Physical Distancing
Please always remember to maintain the recommended physical distance from others, even when face coverings and masks are in use. Avoid crowding in elevators. Take the stairs when feasible.
Stay out of crowded places and avoid mass gatherings.
Stay Close Virtually
Please remember, do not gather as a group without careful consideration and without appropriate precautions. Stay in virtual touch often with family and friends through Zoom, FaceTime or other similar programs and social media.
Face Coverings
The Academy is requiring face coverings to be worn at all times when inside the hotel, gyms or any buildings, unless you are in your own hotel room, private office or are eating/drinking. In addition, face coverings must be worn on all public transportation.
Face Covering Guidelines
A face covering must cover the nose and mouth

Face coverings should not be shared with other individuals.

Face coverings made from cloth must only be worn for one day — and must be properly washed in hot water before wearing again. 

We recommend packing 5 to 7 face coverings to reduce the need for daily washing.

Wash your hands before and after removal of face coverings.
Covid-19 Testing
Starting November 23, a negative PCR test carried out within 72 hours prior to your arrival in Spain is mandatory.
As of June 10, 2020, the Spanish government published several measures in relation to the prevention, containment and coordination of the COVID-19 pandemic.
Individuals over 6 years old are required to wear face coverings/masks:
On public roads, in open public spaces and in any closed space for public use (where social distancing of at least 1.5 meters cannot be guaranteed), and

In air, maritime, bus or rail transport, or public or private transports of up to nine seats (if the occupants of the vehicles do not live together).
For more information, please visit:
Spain's Official Tourism Website – COVID-19: Measures to Ensure Tourists' Safety
This link is updated with all of the latest information on what to do and what not to do in Spain with regard to containing the virus and protecting yourself from infection.
Mallorca Hotel Cleaning and Disinfection Protocols
Occidental Playa de Palma Hotel – Barcelo Hotel Group
We are committed to ensuring that you can enjoy your stay in peace
Providing our guests with the best experience has been our mission since the company was founded almost 90 years ago. We take the health and wellbeing of our customers very seriously; therefore the safety and hygiene of our hotels are always a priority and we are recognized as one of the most demanding in the industry in this area.
The current environment calls for our protocols to be redesigned. Therefore, we have adapted our prevention and hygiene processes in accordance with the latest recommendations from experts and international institutions in the field of security against viral infectious diseases, including COVID-19, thus guaranteeing maximum security and securing the trust of our guests and employees in all of our hotels . We have set up a technical commission for investigation and development, the aim of which is to achieve a return to the new normal with maximum security.
To this end, we launched the We Care About You program. This includes an action plan with which you can enjoy your next stay in one of our hotels in peace. Click here for more information.
Additional Safety and Hygiene Measures
Mask Guidelines
We always follow the current guidelines of the health authorities with regard to the use of masks. There is currently a mask requirement in the outdoor areas and in all closed rooms. You need to bring your own masks.
Public Areas or Rooms
Reduction of capacity in public areas and leisure areas (at any time subject to recommendations from the health authorities). Non-essential decorative elements are removed from the rooms (mainly stationery). Protective equipment for hotel staff, washing bed linen and towels at temperatures above 60 ° C.
Hotel Restaurants
The buffet and snack service will continue to be available, although there will be more support from the kitchen and restaurant staff in some areas. There are no meal shifts to the buffet, the customer can come at the times set for the restaurant. The lobby bar and pool bar offer their service as usual. Guests must keep the minimum distance and tables in all areas will be redistributed taking into account the minimum distance of 1.5 meters.
Wellness and Fitness Centers
We work with reduced capacity and always follow the requirements and recommendations of the health authorities.
Swimming Pools
There are no time or shift restrictions on usage. The pools are open as in previous years; A distance of at least 1.5 meters is maintained between the groups of deckchairs. We will continue our hammock service to ensure its good use as we have always advised that it is not allowed to reserve it.
Nearby Beaches
We work with reduced capacity and always follow the requirements and recommendations of the health authorities.
---
Stay Safe with Hotel Roc Leo
Our players will be staying in the Hotel Roc Leo in Can Pastilla. Here is the information from the hotel on extra cleaning and disinfection protocols, including new cleaning equipment and products to be used from the arrival of customers until their departure in all touch points.
All Roc hotels staff have received training in preventive measures against Covid19 and are equipped with personal protective equipment. All hotels have a specific cleaning and disinfection protocol established and controlled by a certified external company. One of them, Biolinea, includes Dr, Crespi, whose wide and reknown experience of Dr Crespi has been recognized by the WHO.
We have redesigned the spaces in all public areas to guarantee the social distancing recommended by the WHO. Readjustments in the check-in / check-out procedures will guarantee the minimum necessary contact. For this we will facilitate the pre check in before arrival. We have created an App that will allow you to check in, make reservations for public areas (restaurants, sunbeds, gyms, spas, mini club etc.), request room service, consult a guide to good practices and information on all the hotel services.
A director oversees the implementation of their safety protocols.
Air Quality Indoors — Hotel Roc Leo has created a special prevention and maintenance plan for air conditioning, heating, refrigeration and water systems to guarantee air quality and the disinfection of terminal points and equipment.
General Measures — Our staff has received training in preventive measures and we have instituted widespread safety measures to prevent the spread of Covid-19.
Items that required dry cleaning have been removed or eliminated. Decorative items that do not comply with new cleaning protocols (washing at more than 60o) will be eliminated. Example: cushions, etc.
Cash payments have been eliminated throughout the hotel and room credit system is being promoted with a prior deposit being made.
Capacity Reduction — A space management tool has been implemented to reduce capacity in restaurants, meeting rooms and swimming pools and manage bookings to guarantee social distancing and personal space. The hotel has separated the sunbeds at the pool by 1.5m and have increased the cleaning rotation in all common areas.
Buffet Modification: Market-Style System — Buffets adapted to a market-style format, with our expert chefs directly serving customers a wide range of different dishes. The number of tables in our dining rooms have been reduced respecting the safety distance of 1.5m.
New Takeaway Meal Service — A takeaway service allows customers to enjoy their food wherever they wish (beach, room, etc.).
Personal Protective Equipment — All hotel staff must wear specific personal protective equipment (PPE) and have participated in hygiene training on the new health standards prior to hotel opening. All kitchen and room staff work with a mask and gloves. Our staff will disinfect their gloves, with hydroalcolic gel, after each room cleaning, and after entering any room.
Cleaning on Request — In accordance with local safety protocols, players and or guests may at any time request additional cleaning.
Customers can decide whether they want to use the cleaning service during their stay. Cleaning of players' rooms will be done regularly. Cleaning will always be done when the players/guests are out of the room.
Removal of Shared Items in Common Areas — Stationery will be available in rooms.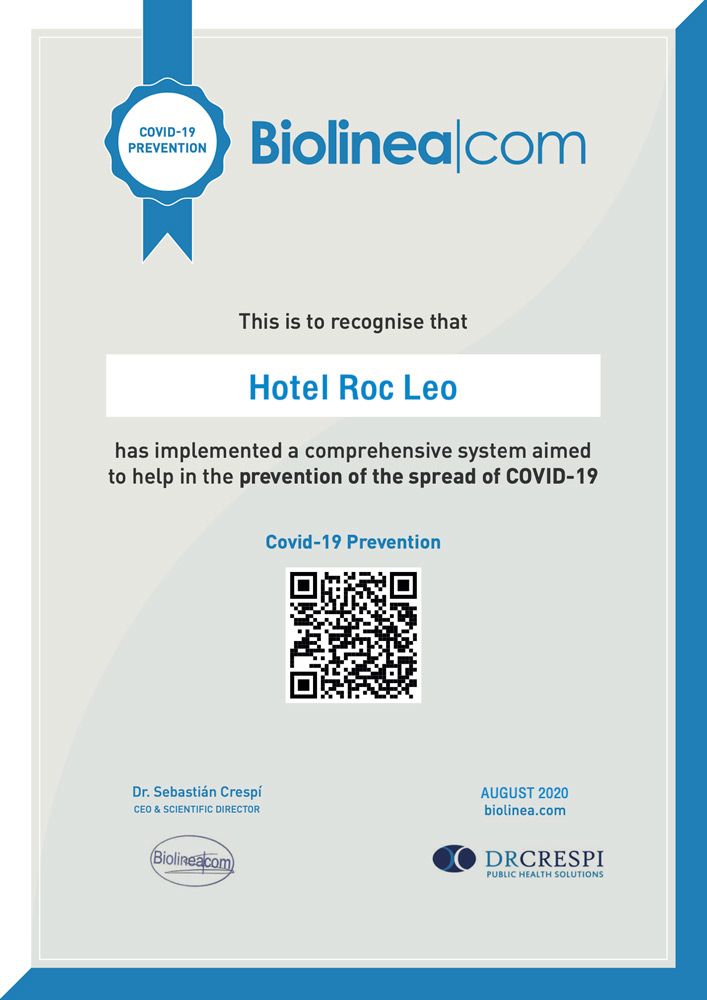 Covid-19 Terms
Active Cases – An active case is confirmed by a COVID-19 diagnostic test, or a case that is presumed positive based on symptoms and/or close contact with a known positive COVID-19 individual. An active case is an individual considered to be within the timeframe of potential viral spread to others. Active cases will need to complete all health directives to be allowed to return to the session.
Isolation — This refers to confining a confirmed COVID-19 case to prevent the individual's contact with others and to reduce the risk of transmission. Isolation ends when the individual meets pre-established clinical and/or testing criteria for release, which typically means that sufficient time has passed since the resolution of their symptoms. Isolation may be enforced through a public health order.
Quarantine — The CDC defines quarantine as separating and restricting "the movement of people who were exposed to a contagious disease to see if they become sick." Individuals who are in quarantine have not yet been diagnosed with an infection, but have known exposures to a confirmed case.
A quarantine is a time period in which public health and/or healthcare officials will monitor a person to see if they develop symptoms.
A person will be asked to stay in quarantine until they have exceeded the incubation period without any development of clinical disease.
If a person does develop disease or test positive, they will be transitioned to "isolation" to continue monitoring their clinical disease and limit their contact with others. Quarantines may be enforced through a public health order.
For information on confirmed / active cases in Mallorca, please visit this link – https://www.ibsalut.es/es/coronavirus-covid-19/situacion-actual-de-la-covid-19-en-las-islas-baleares
For information on health care abroad, please visit CDC's link
https://wwwnc.cdc.gov/travel/page/getting-health-care-abroad
info-covid
What To Do Before Arrival
SIGN UP AT SMART TRAVELER ENROLLMENT PROGRAM
Stay Informed, Stay Connected, Stay Safe!
A Service of the Bureau of Consular Affairs, U.S. State Department